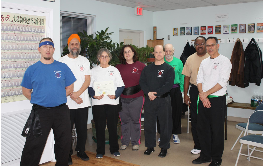 PROGRAMS IN TAIJIQUAN, TAIJI-QIGONG AND QIGONG
At Qi Elements Center for Taijiquan and Qigong, you can change your life. Whether your goal is to improve your health, reduce stress, become more disciplined and focused, learn self-defense and improve your self-confidence, gain an exercise program that will last your throughout your life, or to do all of the above, Qi Elements instructors and fellow members are eager to help.
Both challenge mind and body

Both i

mprove overall health and reduce stress

Both develop vital enery (Qi) and its circulation

Taijiquan adds martial skill and self-defense
Easier and simplier than Taijiquan

No martial art appications

Exercises targeted to specific health issues

Improves health, flexibility, balance and reduces stress
Our modern life style--especially in high competition areas such as Northern Virginia and the DC region--often leads to our becoming disconnected from nature and from our physical and energy bodies. The demands it puts on us sap our energy and threaten our health. Many of us consequently suffer repeated bouts of minor illnesses such as colds and flu, and over time the strain on our well-being leads to more serious and chronic illnesses. Taijiquan and Qigong give you the tools to protect yourself, boost your internal energy and to restore your health and spirit of vitality.
ARTS THAT ENHANCE THE ALL-ROUND QUALITY OF YOUR LIFE